Slim Shady. My Name is - oh wait that's not right.
I am a woman of many names: mom, momma, mommy, hey you, teddy, darlin, lovey, dear, bitch, whiney bitch, Mary, MJ
However, Mary Jane is the one name that shows on all the legal documents thanks to my parents. I was blessed with being named after my grandmas - Mary Eleanor and Martha Jane.
Even with the teasing I received (uh, uh what were your parents doing, hee hee) I am proud to be Mary Jane. Besides, I just do not see myself as any other combination of those four names. Hey Big Martha, what up? How do you do Eleanor? See none of those seem to fit me. I am a plain Jane (well Mary Jane).
So, thank you mom (and dad) for such a classic, timeless name.
Today's post is brought to you by Mama Kat's Writer's Workshop. To check her out, click on the lovely picture!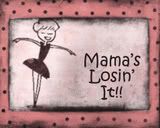 *
*
*
*
*
*
*
*
here is a preview of what is to come on Fridays