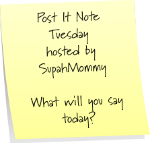 Click on the post-it note if you want to play along too!
I had a well thought out post just waiting in my head to come out - then *POOF* it was gone. Work was crazy again today (or maybe it was just me). I decided to jump on the band wagon and do a Post-It Note Tuesday.

I also want to add a link to Lee the Hot Flash Queen's Word Verification and No Reply post. Lee made a BSA (blog service announcement) that I think many could benefit from.
I'm all out of energy. Maybe with having the next two days off I can get back to my "roots" and my thought provoking posts.
XOXO